We are here to tell you about the best-kept beauty secret called Botox Brow lift! Eyebrows are considered to be one of the most important features of the face. They frame the face and enhance your eyes. They are, however, also one of the first to show signs of ageing. Age is an inevitable yet unfortunate fact of life. Along with age, come signs of ageing like skin sagging, lines, and wrinkles and the skin around the brow area starts to lose firmness and youth. The brows start to droop downwards which not only gives a dull expression to the face but also makes the wrinkles around the eyes more visible.
In today's lifestyle, age is not the only factor that leads to brow descent. Skin damage, stress, and poor lifestyle including alcohol intake or smoking can also lead to skin sagging and wrinkles.  Poor diet, loss of collagen, or illness may also result in sagging skin around the eyebrows and some individuals may even have such an eyebrow appearance genetically. Both women and men are facing the problem of brow droop and keep searching for treatments available. Make-up is often used to conceal eye wrinkles, crow's feet, frown lines, and loose skin but it cannot be concealed fully. Aesthetic treatments in cosmetic dermatology are also available but people often yearn for a simple, long-lasting, result-oriented procedure that is non-surgical and effective – This can be done by relaxing the muscles that cause brows to droop as it allows the brow elevators to lift the eyebrows. A Botox brow lift is one of the easiest and most popular procedures to remove these signs of ageing.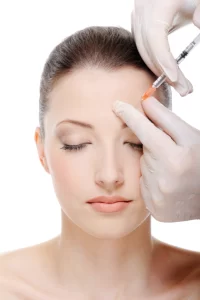 While surgical options are available, and many people get them but there is always a risk involved of scarring, infection, and even facial paralysis. To avoid these risks, Botox brow lift emerges as a safe alternative.
How Does Non-Surgical Botox Brow Lift Work?
Botox involves a quick and simple injectable procedure in which a neurotoxin is injected into the skin acting as a muscle relaxer. Also known as Chemical Brow Lift, it is imperative to consult a licensed Botox injector. During the consultation, the Botox expert will study your face to spot the corrugator muscles. These muscles are responsible for your frown and brow droop. The Botox specialist will decide on the right kind of treatment for your droopy brows, skin sagging, and crow's feet as it depends on your age and facial structure. After the neurotoxin is injected into the muscles, the corrugator muscles get relaxed and give the effect of a lifted brow. The wrinkles and forehead frown and crow's feet also known as the laugh lines are effectively removed by the chemical brow lift.  The Botox can be combined with other injectable treatments like fillers to get a rejuvenated, youthful look and lifted eyebrows.

What are the Benefits of Non-Surgical Botox Brow Lift?
A Botox brow lift is immensely popular amongst people of all age groups. The fact that it is safe makes it a common choice for people learning to look young and beautiful. To dial back the clock for the face and get a youthful, rejuvenating experience, Botox is a favorite choice. Here are some of the benefits that are involved with Botox –
Botox brow lift is extremely safe. Scientifically proven to give the desired results, Botox brow lift has no side effects involved with it if done by an expert.
However temporary, Botox brow lift gives long-lasting results, and you will have a younger appearance for quite a long time.
Since Botox brow lift injections are minimally invasive, they generally cause no pain and cause minimal to no trauma to the skin. It is done with a fine needle and thus causes, no discomfort to the client.
Studies reveal that the Botox brow lift treatment is free of any complication or risk during or after the wrinkle-removing procedure.
There is no downtime involved in the Botox brow lift procedure. The mild redness that may occur in a few skin types goes away after a few hours and you will be able to go about your day.
The chemical brow lift saves you from heavy surgery and the heavy makeup routine in an attempt to hide sagging. Thus, this treatment saves you time and money by providing a long-lasting solution to this concern.
A symmetrical face is considered to be attractive. Botox brow lift tends to change the way the eyebrows sit. Botox can fix uneven or genetically droopy eyebrows and provides face harmonization. They can provide the symmetry of the brows along the brow bone and gives you a beautiful, younger appearance.
Botox brows lift also lifts the skin of the hooded upper eyelids and thus gives an improved appearance to younger clients with the early signs of ageing.
Will I Lose the Ability to Smile After Getting Botox Brow Lift?
It is a ridiculous myth that one loses the ability to portray facial expressions after a Botox brow lift. The facial muscles are not paralyzed after the Botox treatment and thus no loss of expression is lost. The Botox brow lift only works as a muscle relaxer on the upper third of your face. The muscles that are relaxed are responsible for lines, wrinkles, and eye droopiness. The natural movement of facial muscles is allowed after the Botox and thus, there is no change in the expressions of the client. You will not lose the ability to smile, laugh, or show any other facial expression.
While some celebrities are known to have plastic surgery gone wrong, the chemical brow lift Botox brow lift has become a safe alternative for all. Celebrities who go for Botox from a licensed professional get noticed for their appearances without the public getting to know what has been done.
Get the Best Botox Brow Lift from AAYNA, a Leading Skin Clinic in Delhi and Ludhiana
AAYNA is a top-notch skincare clinic with a wealth of experience in Botox treatments. We have been dealing with a non-surgical Botox brow lift for more than 8 years.
It is best to only get your Botox brow lift from the trained and experienced professionals at AAYNA and avoid getting cheap, inexperienced treatments. At AAYNA, we perform virtually pain-free due to the high-quality fine needles and the skills of our dermatologists and aestheticians.