Advanced aesthetic treatments have made fillers a client-favorite procedure – and under-eye fillers have become a new rage, rightfully so!
Dark circles are a problem as common as a cold. You are not alone if you too are seeking a solution for your under-eye bags, dark circles, or deep sunken eyes. The skin under the eyes is the most delicate and sensitive part of your face. Neither getting dark hollows under the eyes is unusual nor is trying non-surgical treatments to fix it.
Dark circles may be caused due to lack of sleep, stress, alcohol, or hereditary. Under-eye dark circles are also significant signs of ageing. Age results in the loss of elasticity in the skin under the eyes. This leads to discoloration which makes the dark circles and makes the appearance of the eyes sunken, tired, and dull. Under-eye, fillers are a great way to treat under-eye dark circles and rejuvenate the skin. They are extremely safe, non-surgical treatments for skin rejuvenation.

What are Under-Eye Fillers?
Also known as tear trough filler treatments, under-eye fillers are non-surgical liquid facelifts. They are injectable cosmetic treatments for subtle facial enhancements that are minimally invasive. Fillers are of different kinds, and all are clinically proven to be safe. Just like AAYNA's lip fillers, and cheek and chin augmentation fillers, our under-eye fillers are safe too. Acting as a skin booster with the richness of hyaluronic acid, these under-eye fillers rejuvenate the skin and removes the dullness making it bright and fresh. These non-surgical enhancements are cautious of your safety as the hyaluronic acid they are enriched with is an element our body produces to keep our skin young. When HA is injected under the eyes, the skin gets a hydrating dose, and the lost elasticity gets restored. The eyes start to look fresh, bright, young, and awake.
How Safe are Under-Eye Fillers?
Since the body itself produces hyaluronic acid, the injected HA's presence is also safe and nourishing. HA dissolves easily and gives a natural-looking youthful appearance to the area being treated. Done with fine needles, the under-eye filler treatment is practically painless and causes no trauma to the skin. After giving a skin lifting effect for a long time, it gets dissolved, and you won't have to remove anything.
Although the procedure is quick and comfortable, it is advisable to only get it done by an expert licensed to do it. At AAYNA, we do a thorough consultation before the treatment and the procedure is done by a licensed dermatologist. We maintain the covid protocols while performing all treatments and our well-trained staff along with experienced practitioners perform the procedure in an environment of unparalleled hygiene. If you want to get under-eye fillers but are scared of the risk, just consult the fillers specialists at AAYNA and get the right consultation and only the results that you desire.

Benefits of Getting Under-Eye Fillers at AAYNA
1. Rejuvenated Skin – No one deserves to lose their confidence and live with discolored dark circles or eye bags under the eyes. These not only make you look tired but take away the charm from one of the most crucial features of your face i.e., the eyes. After getting the under-eyes fillers, you will find your skin under the eyes bright, smooth, and rejuvenated. The tired look will be replaced by a fresh, beautiful face that you will admire and feel confident in.
2. Removes dark circles and wrinkles – Under-eye fillers effectively remove dark circles and also address ageing signs like wrinkles, fine lines, and loose skin.
3. Long-Lasting Results – Fillers restore the health of your skin along with tautness and elasticity for a long time. Fillers done right will give you long-lasting desired results that will be appreciated by you and those around you.
4.  Little to No Downtime – This non-surgical tear trough filler treatment does not involve any downtime. The procedure is minimally invasive and will cause no trauma to the skin, and no recovery time is needed after the under-eye fillers treatment.
5. No-Risk – Fillers are minimally invasive enhancements. They might look scary, but they are done by needles so fine that there is no pain involved. In these hyaluronic acid under-eye fillers, the involvement of risk is nil because the skin is only being infused with an acid that it itself produces. The HA injected will not be rejected by the body as a foreign element and amazing results are guaranteed from the treatment.
6. Single-Session Quick Treatment – Fillers are quick and easy when done by a professional. Under-eye fillers at AAYNA are single-session treatments and the results will start to show right after the session. The health of your skin will gradually improve on a daily basis in the months following the treatment.
7. Experts-Led Procedure – The most important benefit of getting the under-eye filler treatment from AAYNA is that there is no chance of getting it wrong. People feel scared of getting a botched filler job by an inexperienced salon but at AAYNA, we have experienced staff. Our aestheticians are trained to be the best in the industry while our doctors have a wealth of experience in skin and hair-related concerns. Having fillers done by specialists would guarantee the right kind of changes on your face and you will feel confident in your brightened, dull-free, fresh, and youthful skin.
Book your Under-Eye Filler Treatment at AAYNA Today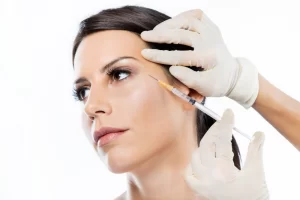 Now that you are familiar with the benefits of under-eyes fillers, we would like to inform you that there are many other skin enhancement treatments at AAYNA. We perform them under the supervision of some of the best doctors in the country. We have industry-best trained aestheticians and the best quality equipment for the treatment So be assured of the safety of the procedures and the hygiene that is maintained at our clinic. Our non-surgical facial harmonization is a quality treatment that we take pride in. If you are interested in getting dull eye bags or dull skin treated or if you have any other skin or hair-related treatment in mind, do consult our experts and get the right solution customized according to your needs. Call us to know more or simply visit us in our Delhi or Ludhiana center for an in-depth consultation.