AAYNA Waterless Medical Pedicure
AAYNA waterless manicure and pedicures are relaxing, comfortable and painless treatments which ensure both the health and beauty of your hands and feet. The treatment leaves your hands and feet looking and feeling healthy, attractive and revitalised.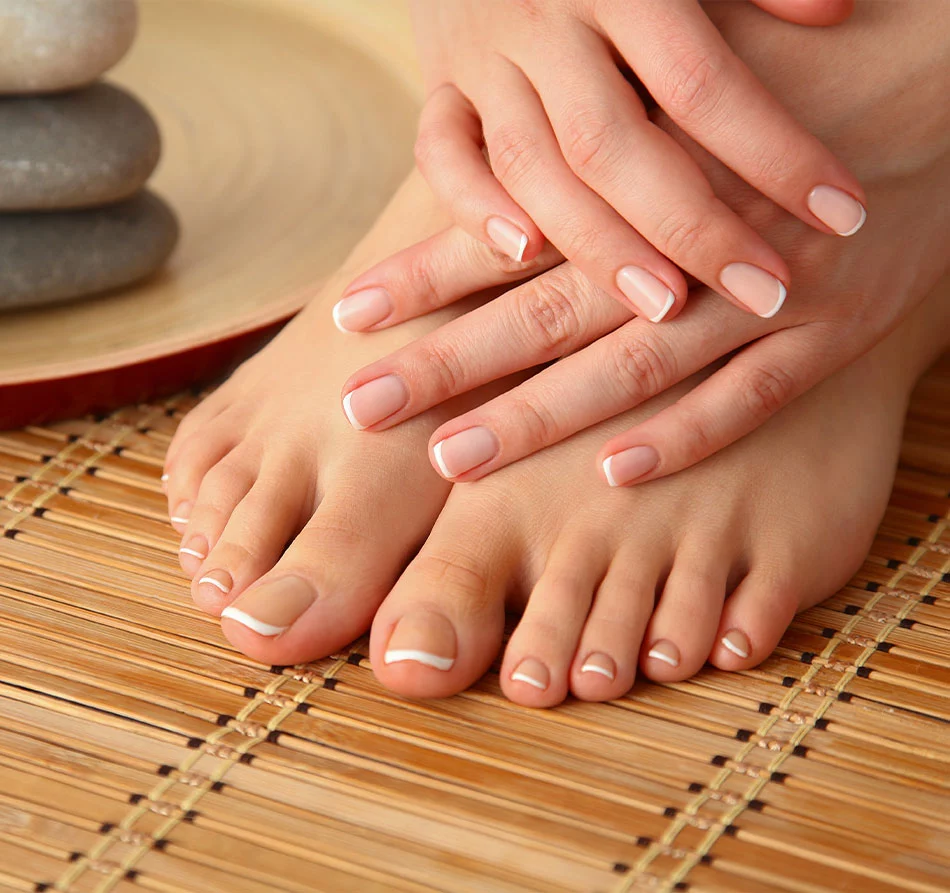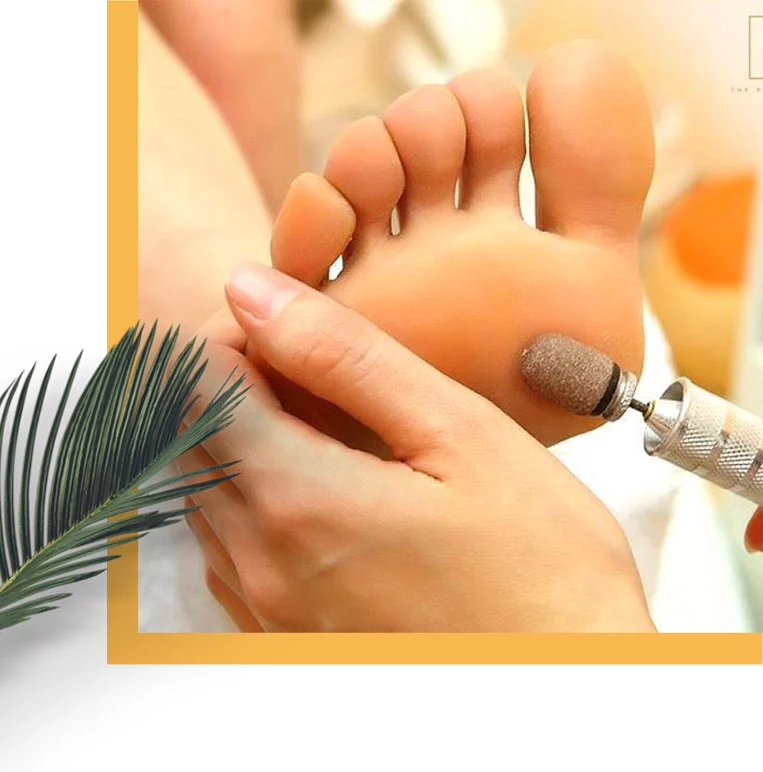 Exceptionally long lasting results.
The treatment is perfect for diabetics as it reduces the risk of ulcers and improves sensitivity of the feet. This is the only non-surgical treatment for ingrown toe nails as it is capable of gently treating and relieving the condition. This treatment also helps treat disfigured and discoloured nails with special instruments like fine drills and burrs that gently remove the diseased area and even out the nail plate.
How it works?
The waterless procedure is performed on dry hands and feet to ensure exceptionally long lasting results. Corns, calluses, and hard, dry skin are safely removed, toenails are cut, shaped and buffed using sterile precision instruments, followed by relaxing foot reflexology.
Products formulated with specific podiatry needs in mind.
The chief ingredient, a special organic australian emu oil that has healing ,anti-microbial and anti-fungal properties and renders the hands and feet lighter, softer and moisturised.
These exceptional treatments ensure your hands and feet are not just groomed and polished but also healthy and nourished.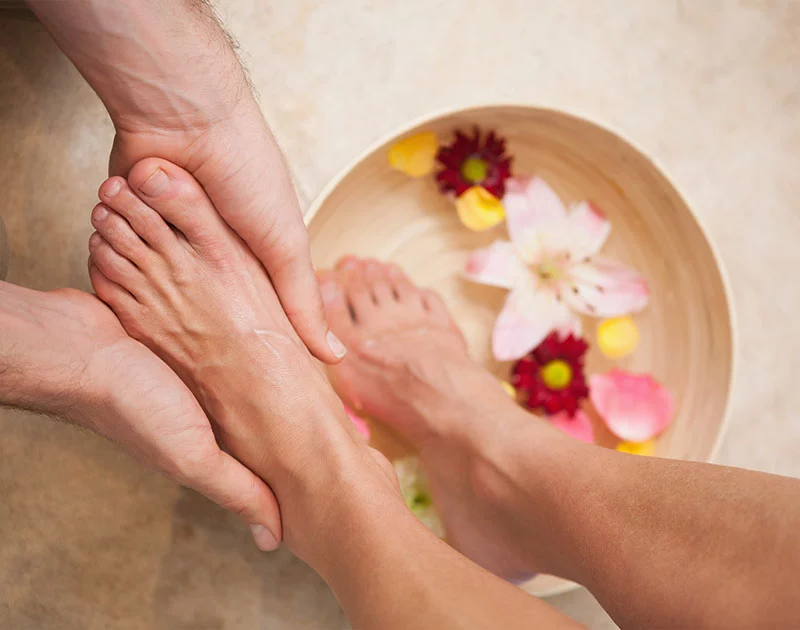 Feet are often overlooked when it comes to skincare, even though, they add equal importance to our looks. Healthy, soft, and smooth feet are signs of beauty and wellness. Dead skin on feet and cracked heels look unattractive and can also cause discomfort. Corn, warts, and calluses on the feet and extremely uncomfortable and painful and therefore, need an effective foot treatment that not only provides long-lasting results but also makes your feet look beautiful. When we think of a medical procedure for feet, we often think of a painful procedure, but this waterless foot pedicure is a medical formula that is completely non-invasive and painless. No pain is associated with this medically proven foot pedicure and a relaxing and soothing experience is guaranteed in this toenail treatment.
At AAYNA we have introduced, for the first time an exclusive medical-grade pedicure for waterless toenails pedicure.
About AAYNA Waterless Medical Pedicure
The pedicure specialists at AAYNA are experts in foot pedicure treatment with this waterless therapy for feet pedicure. The salon-based foot pedicures only clean the upper layers of the skin, they do not focus on the overall wellness and health of the feet, and therefore, the medical pedicure podiatrists at AAYNA are offering this pedicure treatment.
Medical Pedicure Podiatrist in Delhi
AAYNA's trained professionals are London-trained aestheticians well-qualified to perform this exclusive medical pedicure treatment. Under the supervision of top dermatologists, our pedicure specialists offer this relaxing waterless medical-grade pedicure. All aspects of foot health are covered in this waterless foot pedicure giving long-lasting effective results.
How Safe is AAYNA Medical Pedicure?
This non-invasive foot treatment is an extremely safe solution to treat all aspects of foot health. A thorough consultation is done by the top dermatologists near you and internationally trained feet therapists give a relaxing medically supported feet pedicure. Long-lasting results are ensured with the new-age pedicure technology for this dry pedicure. Advanced sterilized tools are used in this doctor-approved waterless pedicure.
Foot Treatment with Waterless Medical Pedicure
AAYNA waterless pedicure is done on dry feet to avoid fungal infection and it treats corns, calluses, cracked heels, dead skin cells on feet, and ingrown toenails with this revolutionary feet treatment. Hard foot skin is treated to make it soft and smooth in this completely dry foot pedicure. The feet are nourished with the healing properties of the Australian Emu Oil and other wondrous products with healing agents to keep your feet healthy.
AAYNA Medical Pedicure Near Me
AAYNA Waterless medical pedicure is only available in AAYNA, Delhi where the London-trained pedicure therapists perform this medical painless foot treatment without any needles. Along with medical pedicures in Delhi, AAYNA also provides relaxing medical waterless manicures for the best foot care and hand care near you.
At genuine costs, waterless pedicures and manicures are performed by foot care experts in Delhi at the top skin clinic near you. Call today to know more about the medical pedicure price in Delhi and about the offers and discounts available for this month.
Beauty and aesthetics are not only for your face and hair, your feet's health and wellness add great value to your appearance too. Healthy feet mean a healthy lifestyle and therefore, any corn, calluses, dead skin cells, and cracked heels must be treated with the correct pain-free foot treatment. Book your slot today and get the benefits of the monthly offer on medical waterless pedicure toes in Delhi, AAYNA.