AAYNA Glass Skin Facial Treatment
Glass skin is a term used to describe flawless, even toned, smooth and luminous, crystal clear skin. It is the skin of everyone's dreams.
A new entrant in our basket of medical facials the glass skin facial checks all the right squares. It is a quick treatment, suitable for all skin types, gives instant results that last for a longtime, has zero downtime, and helps with many skin concerns. It utilizes an innovative concept of heating up and cooling the skin in quick succession to bring about dramatic improvement in tone and texture.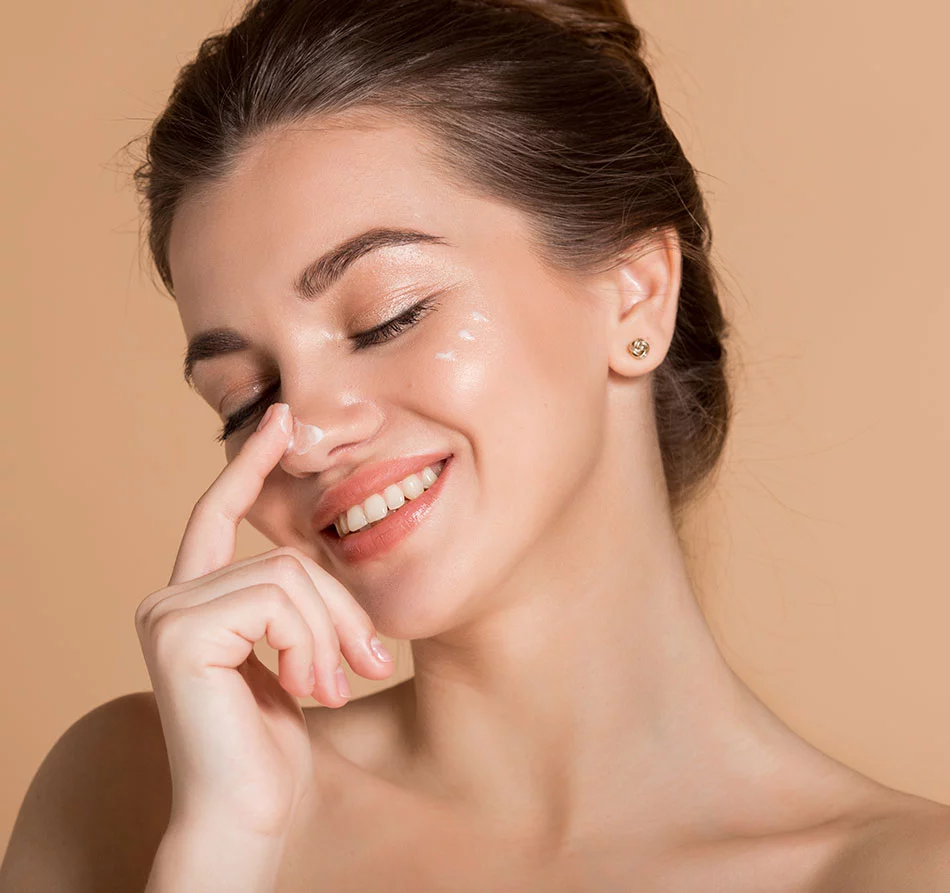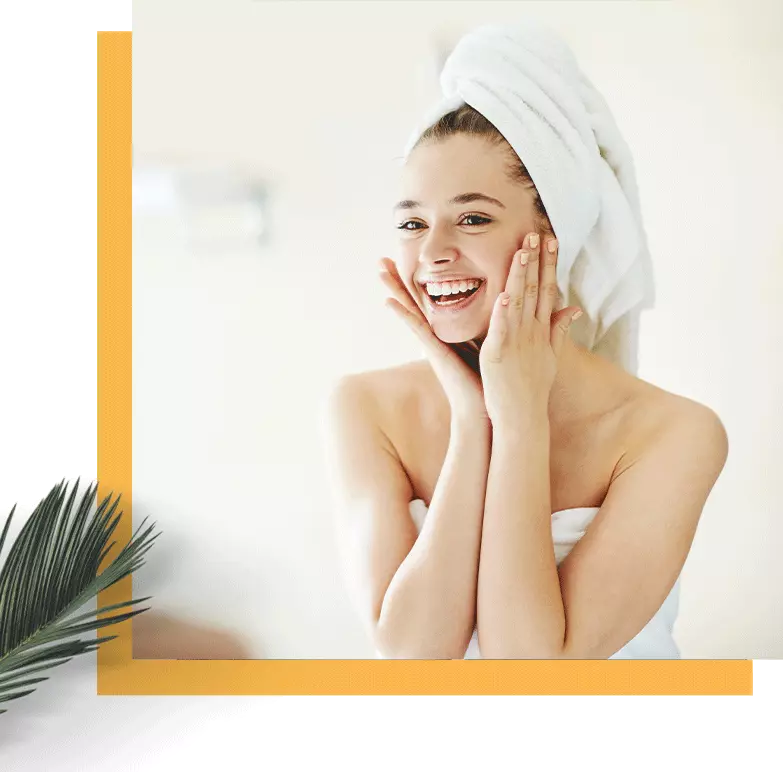 Instant & long-lasting results with zero downtime.
It is tailored to reduce fine lines, wrinkles, open pores, sun damage and dullness along with acne and acne scars.
How it works?
The heat effect at the start of the treatment comes from rapid resurfacing (exfoliation) of the skin with a potent mask powered by glycolic, lactic, and citric acid along with niacin amide, antioxidants and retinol. This helps to speed up cellular renewal process.
This is followed by a pleasant cooling down step with a nourishing mask full of the hydrating properties of Aloe Vera and Hyaluronic acid as well as the anti-oxidant benefits of green tea, liqorice and grape seed extracts calming and revitalizing the skin deep down.
The treatment is completed with a series of post care products that enhance and extend the results of the treatment.
Highly recommended by dermatologists & endorsed by celebrities worldwide.
At Aayna we place the glass facial between the gentle aesthetic facials and the more drastic Chemical peels as it offers the optimum results of the latter with the pampering protocol of a facial.
The glass facial is set apart by the clinically proven, cutting edge products utilizing premium ingredients and superior technology.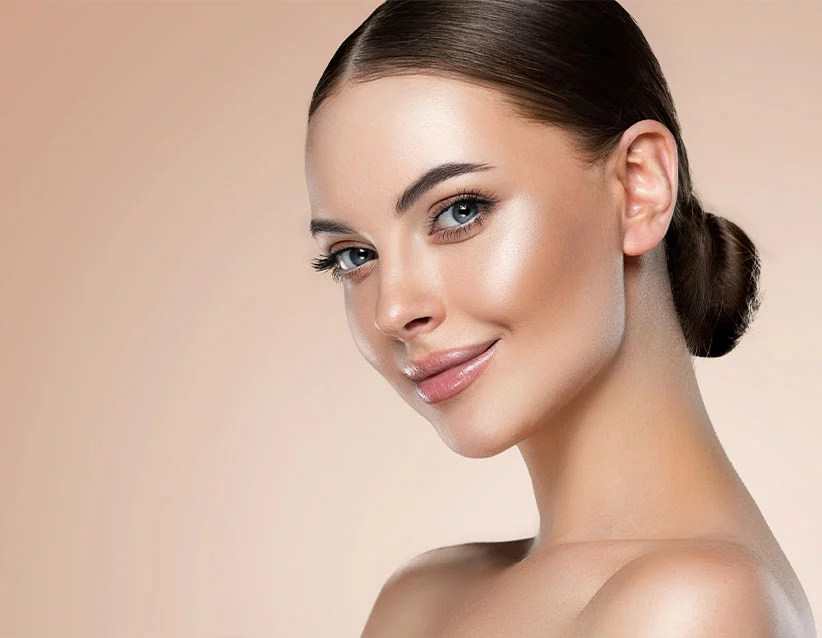 About AAYNA Glass Skin Facial treatment:
Everyone dreams of flawless glass skin but in today's lifestyle and pollution, it gets difficult to maintain clear, youthful skin. AAYNA's dermatologist's facial treatments focus on treating the skin and removing all signs of ageing. We aim at providing brightened, smooth, luminous glass skin with our glass skin facial. Instant glow and clear skin are guaranteed in this quick treatment which gives long-lasting effective results. AAYNA Glass Skin Facial is a medical facial treatment that improves skin texture and skin tone and gives luminous looking, visibly clear skin. This glass facial gives instant results, and the results last for a long time so many opt for this medical facial for beautiful, younger-looking face skin.
How Does AAYNA Glass Skin Work?
This medical-grade glass facial is effective for reducing fine lines, wrinkles, dull skin, enlarged pores, and sun-damaged skin. It also treats acne and acne scars. Skin resurfacing is done through the use of heat effect in the first step of the facial treatment which exfoliates the skin. A potent mask of glycolic acid, lactic acid, and citric acid along with niacinamide, antioxidants, and retinoid works on the skin for luminous, smooth skin. Skin cell renewal is focussed upon in this skin-clear facial.
After this method which gives a heating effect, cooling is done in the next glass facial step. In this pleasant and nourishing step, the skin is cooled down with a mask enriched with hyaluronic acid and antioxidant agents like green tea, licorice, and grape seed extracts. This works in building collagen and smoothening the skin by clearing acne and acne marks in the long run. The anti-aging agents in the mask work to smoothen, and tighten skin, and gives instant rejuvenation.
AAYNA Glass Skin facial treatment for Dry skin
Glass skin treatment is beneficial for all skin types. It works wonders as a dry skin facial and oily skin facial.
glass skin facial is tailored to suit all skin types and hydration, rejuvenation, and glowing skin is achieved as skin facial peel effectively removes fine lines, wrinkles, acne, acne marks, and other skin concerns. A clear, beautiful face is a dream that can come true with this result-oriented healing skin facial.
How Safe is AAYNA Glass Skin facial treatment?
Glass Skin facial Treatment is a single session treatment that has no downtime and no side effects associated with it. It is a dermatologist-approved skin facial that causes no damage to sensitive skin. For more safety, it is important to consult a dermatologist. Doctors at AAYNA have been treating skin-related concerns for roughly a decade and have found great results with the glass kin facial treatment for the desired skin treatment.
Get Luminous Glass-like skin at AAYNA clinic, Delhi/ Ludhiana
AAYNA clinic, located in Delhi and Ludhiana has been treating skin-related concerns and helping our patients get the skin they desired. With glass skin peel facial, performed by trained therapists under the prescription of top Indian dermatologists, you can get the skin of your dreams which is bright, young, soft, and supple, with no downtime. AAYNA doctors will also suggest post-treatment tips for long-running results and clear skin for a long time.
Book your consultation for a glass skin facial and get flawless skin that you will absolutely love.