Skincare is luxury, skincare is self-confidence, and skincare is self-care!
At AAYNA, we believe in taking care of our skin and giving it the luxury that it deserves. And to serve that purpose, we have introduced the Double Cleanse Facial of the year – AAYNA Lumiage Luxury.
If you want to give your skin the luster that would fill you with confidence and the ultimate pampering that it needs in today's times full of stress – you must say hello to this double cleanse facial.
AAYNA's facials are a niche in themselves. The primary goal of our facial treatments is to provide clear and clean skin that is blemish-free, hydrated, and glowing. Prepared with globally acclaimed leading ingredients, this double cleanse facial fulfills that promise too. The active ingredients, peels, and serums involved in the double cleanse facial, AAYNA Lumiage Luxury is different from the common with its personalized care and solutions. The focus on skin therapy and solving skin concerns in the customized double cleanse facial treatments is what sets them apart.
How AAYNA Lumiage Luxury Double Cleanse Facial is Different?
Glad, you asked. Some facials are the good old single solution to all, and then there is this double cleanse facial. Yes, the glow is real, and it gets better gradually too with the right post-care, but it refuses to be a single answer to each concern. Every skin is unique, different (and beautiful) and different kinds of skin come with different kinds of concerns. This double cleanse facial can be personalized according to the different concern types, skin types, and age differences too. Your skin's specific needs are addressed through the customizable double cleanse facial.  the right care is delivered to the skin.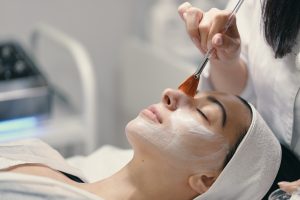 A Double Cleanse Facial That is Mindful
There's a reason it is loved by dermatologists and clients alike – it is a vegan and cruelty-free facial too. Although prepared with medical-grade ingredients for the fabulous skin that it promises, it is not used on any animal for medical research purposes. It is an entirely vegan facial that has no animal-based component and only plant-based nutrients are infused in it. The essential plant-based component deeply nourishes the skin making it healthy and luminous. The environmentally aware can easily get this derma-loved double to cleanse facial and get the glow that lasts long.
Be Luminous with AAYNA Lumiage Luxury: A Derma-Loved Double Cleanse Facial
Prepared after extensive research, these dermatologist-formulated facial is the ultimate skincare that even celebs recommend. Involves beneficial steps like face mapping analysis, double cleansing, exfoliation, and extraction (if the skin needs it). This environmentally mindful facial is customized to suit all skin types and addresses dry, dull skin, pigmentation, lines, wrinkles, and other aging signs. There is absolutely no downtime needed after this medical-grade facial is infused with the best skincare. You will get an instant glow and the post-care is to maintain the results of the facial. It is a super relaxing, beauty-oriented facial that also addresses skin concerns that cannot be resolved by a salon.
Double Cleanse Facial: Your Professional Anti-Ageing Treatment
The AAYNA Lumiage Luxury anti-aging Facial is prepared for those concerned about the signs of aging. It is prepared to address aging by delivering skin rejuvenation and eliminating damaged skin and sun-exposed skin. This double cleanse facial reduces the appearance of fine lines, wrinkles, saggy loose skin, and other aging signs. It improves skin texture, giving you young and supple-looking skin that is hydrated and super nourished.
Double Cleanse Facial: Your Professional Anti-Acne Treatment
Customized to suit and treat oily and congestion-prone skin types, this double-cleanse facial is excellent for treating acne and clearing blackheads and other kinds of impurities. The double cleanse formula works its magic and then the skin is exfoliated, cleansed, and the excess oil and sebum present in your skin are extracted. The deep cleansing works wonders and the skin becomes clearer, softer, and hydrated. The skin feels smooth, and clean and gets an awe-inspiring glow.
Double Cleanse Facial: Your Professional Brightening Treatment
A customized treatment for those with dull, dry, or even sensitive skin. The facial is expert-formulated to give the ultimate care to your skin making it healthy, hydrated, and bright. Skin is affected by pollution, weather, or some cosmetics that clog your skin, this double cleanse facial will soothe and restore the skin. Involves exfoliation, face mapping, and whatnot, the facial will give you a radiance that is awe-inspiring and note-worthy.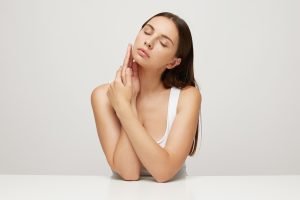 Why We Love this Beauty facial at AAYNA?
We love everything skincare! We believe that taking care of your skin is an effective way to gain confidence, be pampered, to be self-loved. AAYNA facials are uniquely designed to give the feeling of confidence with the skin health they promise and deliver. AAYNA Lumiage Luxury is one of the new additions that we have that is formulated by dermatologists and loved by dermatologists as well. Our skin clinic is equipped with globally acclaimed technology, but we pride ourselves primarily on the skillful therapists and award-winning cosmetic dermatologists that we have. Our doctors know what is best for our skin and how to defend it from pollution, dryness, weather, and age. AAYNA Lumiage Luxury is for all –men, women, and others, young and old, those with oily skin and dry skin. No matter the concern, we have the right solution, and we will give you the best results possible with these skincare components. The ingredients included in the facial are medical-grade and safe and effective for all skin types. They address hyperpigmentation, wrinkles, fine lines, acne, and many more skin concerns. The best part? They would be performed only after a thorough consultation with an experienced skin doctor and the medical-grade facial would be performed under doctor supervision for the ultimate safety. So, book your consultation now and get exciting discounts on the facial that every skin adores.
AAYNA is a state-of-the-art clinic that is the brainchild of Dr. Simal Soin, a world-renowned cosmetic dermatologist, and a celebrated woman entrepreneur. AAYNA prides itself on being a leading clinic in the skin and hair care with its vision of providing every skin the health that it needs.