Did you know that your neck is one of the most sensitive areas to ageing? The skin on your neck is thinner than the rest of your body. As a result, it shows signs of ageing much faster than any other part of your body. Sure, the wrinkles around your neck can be a sign you're getting older. But that doesn't have to mean you have to give up on wearing your favourite low-cut tops, throw away the V-neck sweaters, or stop showing off your cute new haircut. Wrinkles around the base of the neck are a natural part of ageing. As you get older, skin loses its elasticity and has less natural collagen to keep it firm and smooth. The result? You get wrinkles and neck lines where there were none before. Worse, there are no topical wrinkle-reducing or anti-ageing products specifically for the neck area. The only solution to tackle these issues used to be cosmetic surgery. However, not everyone could afford to have surgery with many risks and downsides. Thankfully, an effective alternative to cosmetic surgery for neck lines is Ultherapy! Read on to find out more about this treatment and its benefits.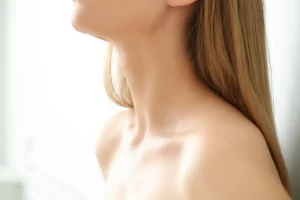 What is Ultherapy for Neck Lines?
Ultherapy is a non-invasive treatment that uses the power of ultrasound energy to lift, firm, and tighten skin on the neck and décolletage. It is an excellent treatment for patients who want a youthful-looking neck without invasive surgery. The treatment can be used on every skin type, including those with brown or darker complexions. Ultherapy effectively removes the neck lines and wrinkles using ultrasound that reaches the deeper layers of the skin to remodel the collagen and boost the new production of collagen. Collagen and elastin keep the skin tightened and younger and Ultherapy works on that to reverse the effects of age and other factors. The energy also melts the fat, making the treatment beneficial for face slimming as well. In this procedure, no surgery, needle, or incision is involved and thus it has no side effects or recovery time.
Ultherapy is a single-time treatment, and there is no need for multiple sessions for the ultimate results. This non-surgical facelift is recommended for those who are looking for non-invasive, practically painless options for an anti-ageing treatment focussed on the neck area. One can see a visible reduction in the double chin as well after an Ultherapy treatment.
Which Areas Can Be Treated Other Than Neck Lines?
Ultherapy is safe to be used to treat all types of skin in terms of base, texture, and complexion. It is a non-invasive treatment and is comfortable and FDA-approved to be used on your face. That said, the treatment is primarily intended for the neck area, including the lower jawline, jowls, and the sides of the neck. Other areas that can be treated with Ultherapy to remove signs of ageing are the cheeks, mouth, chin, neck, hands, shoulders, arms, legs, abdomen, and thighs. However, it is recommended for the neck area as the other areas can be treated with other treatments specially designed keeping those body parts in mind. Ultherapy for the face is the gold-standard treatment that gives you a long-lasting effective facelift.
Benefits of Ultherapy – Neck Lines Removal and More


Ultherapy is a cutting-edge technology designed to treat the signs of ageing. It is US FDA-approved for the facelift that lasts even longer than 12 months! Here are some wonderful benefits of Ultherapy:
1. Skin Tightening–It firms and tightens the skin on the lower part of the face, neck lines, and décolletage.
2. No incisions–Since it is a non-invasive treatment, it leaves no incisions or cuts that would need recovering. It is not painful if done by the right expert.
3. No downtime–Ultrasound is non-invasive, which means that no surgeries or needles are involved in this treatment. This makes the treatment safe and timesaving as there is no downtime. You can go about your day after the treatment.
4. It saves time–Ultherapy saves a lot of time because it is no downtime treatment. Also, it is a unique treatment that takes no more than a single session to give the outcome.
5. Increases collagen–Collagen is an essential protein that keeps your skin youthful, firm, and taut. If you want to increase collagen production and reduce wrinkles on your neck, then Ultherapy is the perfect treatment for you.
6. Improved neck symmetry and balance–A symmetrical face is considered attractive and Ultherapy can give just that. It improves the contour of the neck area and harmonizes the lower part of the face, giving a sharper jawline and a balanced chin.
Before the treatment, you must make sure you are healthy enough for the treatment. Talking to a skin expert at AAYNA would help you make a mindful treatment choice for your concerns. At AAYNA, you can consult a dermatologist regarding your skin, hair, and ageing concerns and get the industry's best aestheticians to perform the treatment for your desired results. Be open about your expectations so that the doctors can choose only what is best for your skincare goals. Ultherapy can help you with your beauty woes. Whether you are in your 20s or 50s, Ultherapy can help you look your best with a chiselled jawline and firm skin. You may also notice that your skin looks younger and more vibrant.
 Ultherapy is a safe and trusted way to treat neck lines and wrinkles that work on all skin types. The treatment is fast and effective, and there's minimal downtime. The best part is that it's an affordable option that can be combined with other treatments, such as Botox, to achieve a more dramatic effect. If you're looking for a non-surgical option to reduce wrinkles and improve the contour of your neck, then Ultherapy at AAYNA is the right solution for you! We at AAYNA have been performing this treatment and many more like this, for many years now. Our satisfied clientele can vouch for our treatments and for the skills of our therapists. AAYNA, a dream that came true envisioned by Dr Simal Soin, has resolutions for all skin, hair, and body care concerns.
Ultherapy is excellent for lower face slimming, however, you may also be looking for treatments that can be used for body slimming as well. Exilis Elite at AKARA by AAYNA is a treatment that can be used on both face and body for fat reduction and younger, smoother skin.
Call us today and book your Ultherapy session in Delhi or Ludhiana.
 AAYNA Mehrauli: +91 704 229 7304
AAYNA Khan Market: +91 987 039 6667
Ludhiana: +91 857 500 6060