Gone are the days when fixing loose saggy skin only required surgery. With the advancement of technology in skincare and beauty, it is now possible to get the rejuvenated, tightened skin back without any surgery. While searching for the top non-invasive, non-surgical treatments for skin tightening and facelifting, patients often find two leading facelift treatments – Ultherapy and Thermage. Both are extremely safe and are some of the best options for no downtime skin lifting therapy.
However, it becomes a matter of confusion on which treatment is the most suitable for facelifts and tightened skin. Many believe that there is no difference between Ultherapy and Thermage, however, skin specialists claim otherwise. There are significant distinctions along with multiple similarities between the two anti-sagging treatments. Read on to identify how Ultherapy is different from Thermage to make a more informed decision for skin-lift treatments.
Ultherapy and Thermage – What are they?
Ultherapy and Thermage, both are safe doctor-approved technologies for skin-lift. These are two of the best face lifting technologies that are non-invasive and pain-free. They are used to treat skin sagging, and skin loosening and also improve skin texture. Both of these skin-lift procedures require no needles or patients do not need to go under the knife for these treatments – which simply means that they require no downtime after the sessions. Let's have a detailed look at how they work to make a better judgement regarding Thermage versus Ultherapy.
Ultherapy Vs Thermage: How do they Work?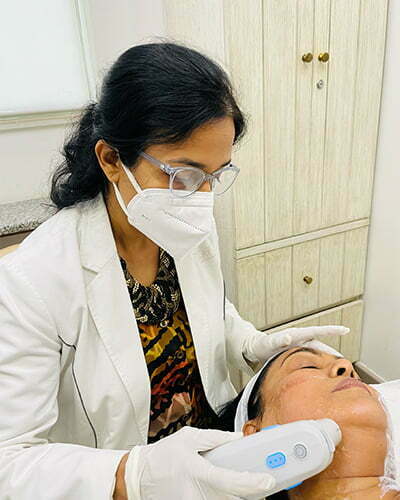 How does Ultherapy Work?
Making use of ultrasound technology, Ultherapy treats skin sagging, promotes collagen production and improves skin texture. The surface of the skin remains cool and protected while the ultrasound waves are used to heat the skin tissue deep inside the epidermis. It is a US FDA-approved technology and is a great option for those specifically looking for a skin lift without an invasive procedure.
Ultherapy Target Areas
The food and Drug Administration has approved Ultherapy as a safe, pain-free procedure to lift the skin of the face and other areas. It is one of the best treatments for a non-surgical facelift and non-invasive brow lift. Apart from the brow line, Ultherapy also lifts the skin around the chin, neck, cheeks, jawline, under-eye, décolletage, and chest. It is a single session treatment for significant long-lasting results. Ultherapy gives the same facelift results as a surgical facelift does but requires no recovery period, the patient can go about their day right after the treatment and would face no side effects.
How does Thermage Work?
Thermage is a great treatment for face contouring, skin tightening, and improving the firmness and tone of the skin. It delivers effective rejuvenation to the skin and takes away the age from your face. Using the power of radiofrequency or RF technology, skin Thermage uses heat that penetrates the deep layers of the epidermis. Due to the heat, the skin tissues tighten. RF Thermage also helps in building new collagen and tightening the existing collagen, resulting in rejuvenated, smooth skin, with a youthful appearance. FDA has approved Thermage as a safe treatment that requires no downtime or recovery.
Thermage Target Areas
Treating larger parts of the body, thermage effectively lifts the skin on your forehead, around the eyes, under-eye bags, neck, décolletage, stomach, arms, bingo wings, buttocks, knees, thighs, and hands. Thermage smoothes the skin around the target area and it is a painless, non-invasive way to get youthful looking, lifted skin.
Ultherapy versus Thermage: Major Differences
Ultherapy is a very quick treatment. If done by a trained professional, it takes around 30 minutes for a chest lift and a few more minutes for a facelift. Ultherapy makes use of ultrasound and sends micro-pockets of energy into the deep layers of the epidermis.  It is excellent for face jowls and brows lift. Wrinkles, fine lines and loose skin can be effectively treated by Ultherapy. Ultherapy does wonders on thinner skin areas. Ultherapy takes a bit longer but is a more comfortable treatment than other non-invasive procedures.
Thermage takes around 30-40 minutes when done by a trained aesthetician under the right supervision. Thermage uses bulk heating through radiofrequency waves which work in the deep layers of the skin. Thermage treats skin sagging and loose skin in a wider range of treatment areas. It is great for contouring the sagging skin on the thighs and abdomen.  Thermage is well suited for those wanting to treat cellulite on the abdomen, buttocks, and thighs and it works great for those with uneven skin texture.
Ultherapy vs Thermage: Which one to Choose?
It depends on the treatment area in which skin-lifting is needed. It is best to consult a skin specialist to choose the best course of treatment for effective skin-tightening. Both treatments are safe and practical to give long-term results. It is imperative to get the right consultation when choosing between Ultherapy and Thermage and should only be done by someone trained.
At AAYNA, Delhi, we have the top dermatologists and trained aestheticians providing the leading procedures for visible facelift and skin-tightening. Skin texture, lines and wrinkles, and puffy eyes are also treated in these non-surgical face-lift treatments. Get consulted by a leading skin specialist at the AAYNA clinic located in South Delhi and get a younger-looking treatment in just a few minutes.
Book your slot today.