There are many ways to improve the appearance of your skin. You can ask your aesthetician to recommend a few home care tips or even get a chemical peel or Microdermabrasion session. However, some pigmentation marks won't go away with these treatments, and they may come with some risks too. There are times too when you might want to try something a little bit more unique and unusual to address not just one or two concerns but many concerns at the same time. What if we told you that there is a new skin pigmentation treatment that will give you flawless skin in as little as 30 minutes? Microneedling is that treatment! It is an easy and painless procedure with amazing results. Read on to find out more about AAYNA Miracle Microneedling and how it can help tackle skin imperfections.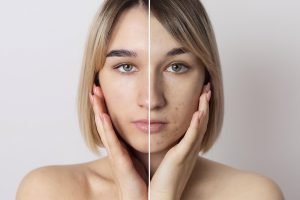 AAYNA Miracle Microneedling which is well known for its collagen-inducing benefits is an emerging skincare treatment that has been gaining popularity among men and women of all ages. This non-surgical procedure helps improve the appearance of the skin by stimulating the production of new collagen and elastin fibers while stimulating the body's natural healing response. This article will explore what AAYNA Miracle Microneedling is, its benefits, how it's performed, and how you can get started with this exciting skincare treatment.
What is Microneedling Skin Pigmentation Treatment?
When it comes to skincare, it's not uncommon to discover new techniques and methods that are being introduced regularly. These novel techniques are often designed with a specific purpose in mind – for example, reducing wrinkles or evening out skin tone and texture. One such treatment that has recently gained popularity is known as AAYNA Miracle Microneedling, and it is precisely what you might expect from the name. For those who aren't familiar with this procedure just yet, here's a quick rundown of what exactly Microneedling is and why it should be added to your beauty routine.
Microneedling is a skincare procedure that has been used for centuries as a remedy for various skin conditions on the face, hands, and body. In modern times, AAYNA Miracle Microneedling has been modified to be used as a non-surgical skin rejuvenation procedure. This treatment is increasingly being used as an alternative treatment for improving dull, uneven skin tone and texture, acne scars, stretch marks, & more.  It is quite effective for other unwanted skin conditions such as pigmentation and melasma. AAYNA Miracle Microneedling works for skin pigmentation treatment by creating tiny punctures in the skin and simultaneously infusing serums that trigger the body's natural healing response. This process causes the skin to grow new collagen and elastin fibers, which results in a reduction of fine lines, wrinkles, scars, and other signs of ageing.
How Does Microneedling Work as Skin Pigmentation Treatment?
Microneedling improves skin pigmentation by triggering the release of melanin, a pigment that gives the skin its color. When the skin is punctured, it creates a wound-healing response that leads to increased melanin production in the skin. The new melanin is produced in the basal layer of the epidermis, and it is new and not simply re-colored existing melanin. This new melanin will remain with the treated area for a long time and does not wash away.  
Benefits of AAYNA Miracle Microneedling Skin Pigmentation Treatment
1. AAYNA Miracle for Skin Pigmentation – When used for skin pigmentation, Microneedling causes the release of melanin, a pigment that gives the skin its color.
2. Anti-Ageing – This treatment promotes new collagen production, resulting in a reduction of fine lines and wrinkles.
3. Improved Skin Tone & Texture – Microneedling improve the texture and tone of the skin by stimulating blood flow, increasing cell turnover, and increasing collagen production.
4. Treats Acne Scarring & Other Marks – Microneedling can be used to reduce the appearance of acne scars and other types of blemishes by increasing collagen production, promoting cell turnover, and improving blood flow.
How to Prepare for a Microneedling Session for Skin Pigmentation Treatment?
Before undergoing a Microneedling session for skin pigmentation, it is important to note that there are certain pre- and post-treatment measures that must be followed to get the best results.


Pre-Treatment Care: The skin must be thoroughly cleansed, exfoliated, and hydrated before treatment. This can be done with the use of a mild cleanser, a chemical exfoliant, and a hydrating skincare product. It is also important to note that the skin should be neither too dry nor too oily before the session. It is better to not apply makeup on the day of the session, however that will be removed by the aesthetician at the clinic.
Post-Treatment Care: For the post-treatment measures, it is important to care for the skin by applying a nourishing moisturizer and sunscreen with an SPF as recommended by the dermatologist. Talk to the skin experts and dermatologists at the AAYNA clinic for the right post-care between the treatment sessions.
Skin Pigmentation Treatment at AAYNA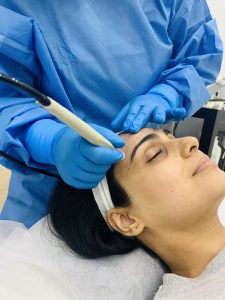 Microneedling is an effective procedure that has been used globally for many years to achieve flawless, blemish-free skin. It is a non-invasive skin pigmentation treatment that also treats other skin concerns like acne scars, melasma, and more. With proper care, Microneedling can help you achieve healthy, youthful-looking skin. The best results are achieved when the procedure is performed by a professional dermatologist or aesthetician who is well-trained in using the treatment. This is why AAYNA Miracle has emerged as one of the most trusted treatments for pigmentation and other skin issues. We have been pioneers in this treatment for a decade and only the best industry-trained aestheticians guided by experienced skin doctors perform AAYNA Miracle Microneedling. Not only do we perform safe, non-invasive treatments for skin and hair, but our skin experts also address your concerns with personalized consultations for the right line of treatment for your skin type, need, and goals, get your desired outcome and get skin that is flawless for days with AAYNA clinic in Delhi (Mehrauli, Khan Market) and Ludhiana.
Skin health is most important in skincare and body care. Apart from pigmentation, if you are looking for ways to improve your body's circulation, reduce water retention and improve lymphatic drainage, then you can go for Ballancer at AKARA.
Call us to know more –
AAYNA, Mehrauli
+91 704 229 7304
AAYNA, Khan Market
+91 987 039 6667
AAYNA, Ludhiana
+91 857 500 6060
Book Your Slot