Around 50.4% of men are suffering from male pattern baldness in India, according to research. Male pattern baldness is quite a common occurrence for men. Also known as genetic hair loss and Alopecia, male baldness is a common issue that men face. It may even cause distress or depression in young people and may also face hair loss. Losing hair is a serious issue which sometimes beyond home remedies and tricks. It requires a doctor's intervention to stop or restore hair after getting patches in hair, thinning hair or complete hair loss. If you too are worried about the consequences of male pattern baldness, then this article would keep you informed about the causes, stages and treatments of male pattern baldness or female pattern baldness.
Let's first understand:
What is Male Pattern Baldness?
Male pattern baldness is a common type of hair loss that men face, regardless of age. It starts with a bald patch in the middle of the top of the scalp while the rest of the hair starts to get thin. You may also start to get a receding hairline and the hair loss would start to look more prominent. Men, young or old may face male pattern baldness but the age that is seen to be the most common at which men face this issue is thirty.

What Causes Male Pattern Baldness?
For something as common as male pattern baldness, the causes are also common and repeating. The most common factors that cause a receding hairline and male pattern baldness are:
1. Genetically Caused – Sometimes hair loss occurs because it runs in the family. Yes, hair loss and baldness can be genetic. It was thought that these baldness genes come from the mother but now studies have revealed that if any one or both of the parents have hair loss problems, it can be genetically transferred to the child.
2. Hormones Causing – Hormones are another major factor that may cause male pattern baldness and female pattern baldness. It has been found that the hormone called dihydrotestosterone or DHT majorly affects hair growth and other changes in your body during puberty. Some people may have genes that are more sensitive to this hormone which can result in the shrinking of the hair follicles. This would result in the inability of the hair follicle to produce hair efficiently and gradually called hair loss, receding hairline and baldness.
3. Due to Age – Old age can also contribute to male pattern baldness. Men usually face a receding hairline and baldness after the age of 30 if the issue is hereditary. Androgenetic alopecia in men is a common occurrence and with age, the chances of men facing hair loss start to increase. By the time one reaches 70-75, men may start to experience baldness. Sometimes, age is not a factor in hair loss and hair can recede gradually after puberty.
Is There a Medicine for Male Pattern Baldness?
Unfortunately, there is no medicinal cure that can stop hair from receding. But with advancements in medicine, science, and aesthetics, it is possible to restore hair through treatments. There are hair transplant surgeries that people consider but it is very painful and may go wrong with the final results. A bad hair transplant can lead to a skin infection on the scalp, poor healing of the skin and even death. This is why we bring you non-invasive hair loss treatments to restore hair safely. The hair restoration is all natural and is done with minimal discomfort. Let's have a look at some treatments for baldness and hair loss.
Male Pattern Baldness Treatments and Solutions
1. Platelet-Rich Plasma (PRP) for Male Pattern Baldness – One of the safest hair treatments for hair loss is PRP or Platelet-Rich Plasma. This innovative treatment naturally restores hair and leaves no chance of side effects or allergies. In this treatment, the patient's blood is drawn using a centrifuge and then the platelet-rich plasma is separated from the blood. The plasma is then injected into the target area to naturally heal the hair follicles that were damaged.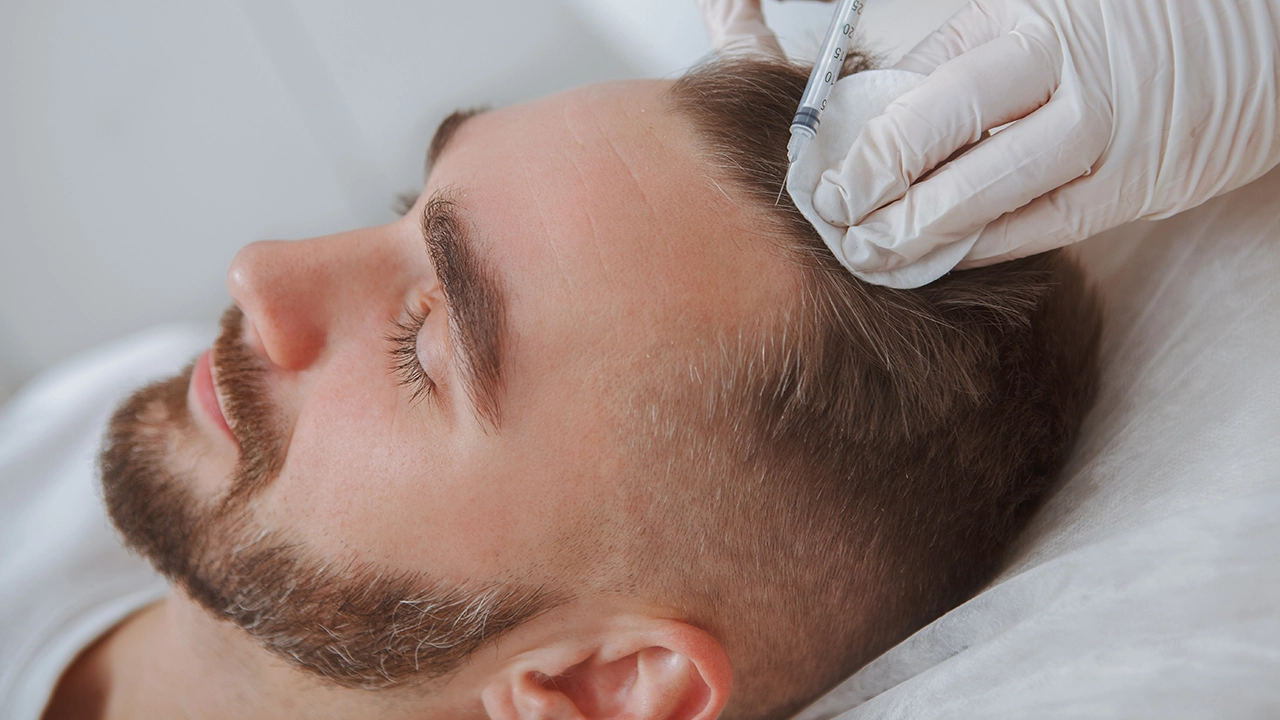 2. AAYNA Hair Regrow for Male Pattern Baldness – This treatment again uses injectables combined with other processes to stimulate natural hair growth. Hair Regrow is a holistic approach to healthy hair and scalp and addresses problems more than one. With AAYNA Hair Regrow Treatment, issues like hair loss, thinning hair, flaky and itchy scalp, dandruff, and hair fall can be treated effectively. This non-surgical hair restoration is a unique solution prepared by the dermatologists at AAYNA to provide potent results in hair care and hair growth.
3. AAYNA Root Deep Treatment for Male Pattern Baldness – A powerful blend of peas, sprouts, asparagus, and black pepper are used in this relaxing hair treatment. Various scalp concerns like dandruff, scalp psoriasis and hair loss are treated effectively through AAYNA's Root Deep Treatment. This treatment is extremely therapeutic and relaxing as it involves a massage to improve circulation. It also maintains the pH of the scalp to reduce seborrhoea.
4. Scalp Pigmentation for Male Pattern Baldness – In the case of male pattern baldness leading toward complete baldness, you can also use this non-invasive and pain-free method of scalp pigmentation. It is also known as the hair tattoo in which thin and small needles are used to deposit tiny dots of pigment on the scalp. With the use of exclusive nanoblading, the target area is camouflaged, and density is added to replicate the natural hair follicle appearance.  It does not restore the hair and is a cosmetic treatment using a German tech called nanoblading which is only available at AAYNA in India.
Male Pattern Baldness Treated at AAYNA Non-Invasively
If this National Hair Loss awareness month is relatable to you and you too are worried about male pattern baldness or female pattern baldness, then make a visit at AAYNA. AT AAYNA, we have non-invasive and safe technology which is useful for potent results. Get a thorough consultation with a dermatologist at AAYNA first to understand the condition and the type of treatment that should be followed. The hair treatments at AAYNA cause minimal discomfort and maximum results.
Book your session at AAYNA today.