When it comes to anti-aging face lifting treatments, we often wonder about the recovery time and the pain associated with them. But we are here to tell you of the non-invasive face lifting treatments that are painless and do not involve recovery time. They address fine lines, wrinkles, saggy skin, thinning lips, drooping eyebrows, and lack of volume, without the need to go under the knife.
Non-invasive facelift treatments are procedures that do not use surgery to address signs of ageing. Skilled dermatologists employ non-surgical techniques for skin tightening and skin rejuvenation. These face-lifting treatments do not need any anesthesia as they can be done through ultrasound, radiofrequency, or fine needles. They are done to rejuvenate, tighten and make the skin look more youthful. With age, your skin, especially around your eyes, lips, cheekbones, and chin start to get loose and saggy. These face lifting procedures help in restoring the youth, plumpness, and brightness of your skin. These face lifting treatments can be customized according to the need and wishes of the client. If the client wishes to have some volume added to the face it can be done through procedures like fillers but if one only needs tightened lifted skin, it can be done through doctor-led treatments like Ultherapy, Thermage, etc. These face lifting procedures do not require any downtime or any anesthesia, and they do not leave any large incisions. Therefore, they are largely considered by people in today's time when time is money, and one cannot afford to take out time in healing processes post a cosmetic treatment. No risks, side effects, or complications are associated with these non-invasive skin treatments.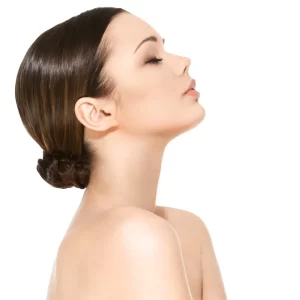 Some non-invasive and safe face lifting treatments are as follows:
Non-Invasive Face Lifting Treatments for Skin Rejuvenation
1. Ultherapy – Ultherapy is a gold-standard face lifting treatment. It is FDA-approved as a safe non-invasive facelift, and it works wonders in face slimming too. It reduces the appearance of a double chin while using ultrasound energy to give firm, taut skin. Loved by many for its double chin treatment, it builds collagen and makes your skin crease-free, tightened, and younger-looking. Ultherapy is a single-session treatment; you can repeat it annually to maintain the results. It causes no pain and requires no downtime.
2. Thermage – Thermage works wonderfully on the face, eye area, and decolletage. It uses radiofrequency energy to remodel collagen, remove lines and wrinkles and tighten the skin for a younger appearance. It is a safe, FDA-approved procedure that can be done annually for long-lasting results. There are no side effects associated with it and you can use it to remove puffiness under the eyes too. You will get rejuvenated skin with results improving gradually with time without any pain or side effects.
3. Dermal Fillers – Fillers are known as liquid facelifts. They act as instant face lifting treatments through cosmetic injectables. Fillers rejuvenate the face and can be used to bring volume around the cheeks, lips, eyes, and temples. These are safe, quick needle procedures that cause minimal discomfort, and they cause no damage to the skin. They are filled with hyaluronic acid and other skin boosters to remove the signs of ageing while lifting and contouring the skin. Dermal fillers hydrate, add volume to your face, and require no downtime or recovery.
4. Botox – Used to treat signs of ageing like wrinkles, fine lines, and saggy skin, Botox is another non-surgical face lifting treatment done through injections. Botox is a muscle relaxer that treats forehead frown lines, crow's feet also known as wrinkles on eye corners, and nose wrinkles as well. Botox also smoothens your facial features that are there due to our facial expressions like laughing, smiling, or frowning.  They can also be used to correct the shape of your masseter muscles and treat conditions like hyperhidrosis, and excess sweating. Botox is often used in a combination with fillers for full face rejuvenation.
Why Get Non-Invasive Face lifting Treatments Instead of Surgical Facelifts?
Even though surgical facelifts give great results according to one's taste and wish, they come with multiple disadvantages. Surgical facelifts may cause many side effects and large incisions which may require a long period of downtime. They are high-cost treatments and the results, if not according to the original vision of the client may get a lot of time to be reversed. Such risks are not involved with non-invasive face lifting treatments like Ultherapy, dermal fillers, Botox, Thermage, lasers, etc. Non-invasive and non-surgical treatments give subtle yet visible results without causing any harm to the skin. Because you are not going under the knife in such face-lifting treatments, you don't have to worry about a recovery time or large incisions. You can get your face lifting session and go about your day and complete your other tasks too. In case a treatment requires any post-procedure care, it is best to follow a dermatologist's suggestion for the best care. Most of these cosmetic treatments are FDA-approved and at AAYNA, these treatments are doctor-supervised for the safest, most comfortable experience. Let the experts at AAYNA help you with your rejuvenating journey today and help you dial back the age.
Non-Invasive Face Lifting Treatments at AAYNA Clinic
AAYNA is a state-of-the-art clinic fully equipped with the most advanced technology that is used for non-invasive facelifts. All our facelift treatments are not just safe and FDA-approved but also doctor-supervised for the most comfortable experience. At AAYNA, we have been performing skin-enhancing treatments under the leadership of the world-renowned cosmetic dermatologist, Dr. Simal Soin who has more than 25 years of experience in such treatments. The aesthetic treatments that we have at AAYNA are done by best-trained aestheticians under the supervision of experienced dermatologists and skin experts. You will get a thorough consultation according to your skin type, conditions, and your need and the course of the treatment will be decided by a trained practitioner. To book your treatment, call us at our clinics in Mehrauli, Delhi, and Khan Market, Delhi today.