Are you tired of traditional facials and yearning for an advanced skincare solution? Search no more! HydraFacial treatment is a revolutionary facial technique that has taken the aesthetic industry by storm. With its innovative, non-invasive method and tailored approach, HydraFacial promises to deliver stunning results for all skin types.
In this blog, we'll explore the secrets behind the facial and unveil the different colors of tips in HydraFacial that contribute to its success. Get ready to embrace your skin's true potential!
Read more: HydraFacial Treatment
---
The Role of Different Colored Tips in HydraFacial:
A key component of the HydraFacial process is the use of specialized tips, which come in various colors to cater to different skin needs. Each tip color targets a specific skin concern, ensuring a truly personalized experience. Let's delve into the role of these unique tips: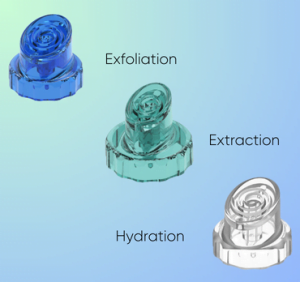 1. Blue Tip: Designed for deep pore cleansing and exfoliation, the blue tip gently removes dead skin cells and impurities, revealing a cleaner, fresher complexion.
2. Teal Tip: This tip is designed for painless extraction. It targets blackheads, whiteheads, and other impurities.
4. White Tip: This tip is designed for hydration, replenishing your skin with essential nutrients and moisture for a smooth, radiant glow.
---
The New-Age Facial: Benefits of HydraFacial:
HydraFacial stands out as a ground-breaking skincare treatment, and here's why:
1. Suitable for all skin types: Whether you have sensitive, oily, or acne-prone skin, HydraFacial can be customized to address your specific concerns.
2. Non-invasive and painless: A patented suction technology and specially designed tips in HydraFacial provide a comfortable, relaxing experience.
3. Instant results: Unlike traditional facials, HydraFacial shows visible results immediately after the treatment.
4. No downtime: With no recovery period needed, you can enjoy the benefits of HydraFacial without disrupting your daily routine.
---
How to Differentiate Between an Authentic HydraFacial & an Imitation:
To ensure you receive the best HydraFacial experience, it's crucial to differentiate between an authentic treatment and an imitation. Here are some tips to help you identify a genuine HydraFacial service: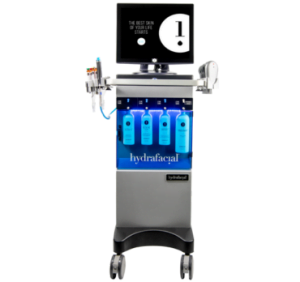 Authorized Providers: Genuine HydraFacial treatments are only offered by licensed and authorized providers. Always choose a reputable clinic with certified aestheticians.
HydraFacial Machine: Authentic HydraFacial machines have a specific design and are branded with the HydraFacial logo. If the machine doesn't have the logo or looks different from the ones featured on the official HydraFacial website, it's likely not genuine.
Tailored Treatment: A real HydraFacial treatment should be customized to address your specific skin concerns. Be wary of one-size-fits-all treatments, as they may not provide the same benefits as an authentic HydraFacial.
Treatment Steps: An authentic HydraFacial follows a distinct process, including cleansing, exfoliation, extraction, and hydration. If the treatment you receive skips any of these steps, it may not be genuine.
Colored Tips: As mentioned earlier, HydraFacial treatments use specialized tips in different colors to target specific skin concerns. If your treatment doesn't involve the use of these color-coded tips, it's a red flag.
Always prioritize your skin's health by choosing a reputable clinic such as AAYNA, who were the first ones to introduce HydraFacial in the country.
---
Experience Genuine HydraFacial at AAYNA Clinic:
When it comes to HydraFacial, authenticity is crucial to ensure the best results for your skin. At AAYNA Clinic, with locations in Delhi, Ludhiana, and Gurgaon, we pride ourselves on offering a genuine HydraFacial experience performed by our expert aestheticians. Our team is dedicated to providing tailored treatments, genuine products and the authentic tips in HydraFacial to help you achieve the glowing, healthy skin you deserve. Founded by Dr. Simal Soin, AAYNA has expertise in aesthetic treatments like fillers, botox, Ultherapy, and other skin and hair treatments like PRP led by some of the top dermatologists in India. Weight management concerns are also taken care of by health experts.
Don't settle for anything less than the best – book your HydraFacial appointment at AAYNA Clinic today and unlock your skin's true potential!