As we grow older, we tend to first notice fine lines on our forehead, under the eyes, and begin developing laugh lines from all the good times we've had over the course of our life. We also can't help but see the formation of wrinkles all around our faces no matter how minute they are. Early signs of ageing start as early as 25 years of age. When an individual reaches their mid 20's, the body begins slowing down collagen production, making 1% less each year. You may lather and layer up your face with multiple serums and moisturizers, which may slow down the ageing process, to begin with. However, it will not stop the ageing process, you might still experience sagging skin. So if you're unhappy with how your skin is or might lose its laxity over the years, it's better to go for a Thermage when you hit your 30's, a time that is best suited to provide your skin with some rejuvenation and collagen boost.
Thermage is one of the best non-invasive radiofrequency treatments that can help your skin look younger, tighter, and rejuvenated.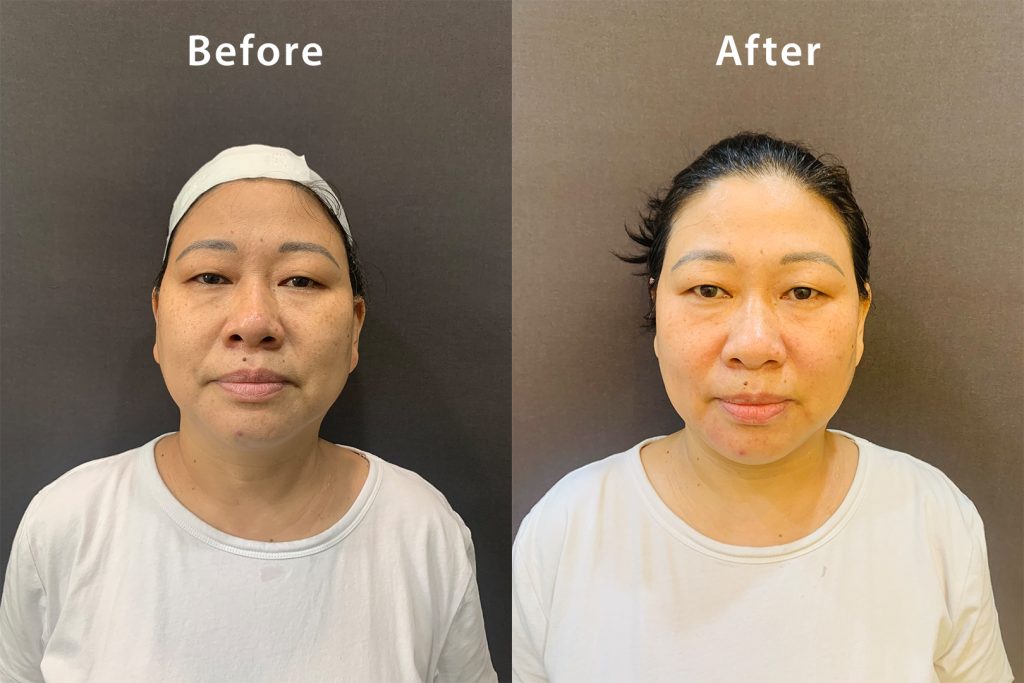 So what is Thermage you ask?
Known the world around and a favourite amongst "who's who", Thermage is a go-to treatment around the world that is completely safe and non-surgical. First approved in the year 2002 by the US FDA, this treatment has people coming back for its natural-looking and long-lasting results. Considered as the gold standard for improving skin's laxity, the best part about this treatment is that it's a one-time procedure with zero downtime, unlike other treatments that require you to have multiple sessions. It's a quick and effective treatment that lasts up to an hour, so you can easily step into the clinic during lunch, and come back to your work feeling all fresh.
And how exactly does it work?
The radiofrequency waves of Thermage heat up the deeper layers of the skin, stimulating the formation of new collagen or elastic fibers as well as remodeling the old collagen leaving the skin looking naturally fresher, supple, and more youthful. Thermage is able to reach deeper into the skin and stimulates new collagen production. It triggers the collagen that has slowed down its work of keeping the skin looking healthy, repairs it, restores it and rejuvenates your skin from within.

In other similar words, Thermage activates your existing collagen, helps it contract so it can get its bounce back. The treatment uses heating and cooling technology to tighten your skin while reducing wrinkles. The superficial skin layers are cooled while the heat reaches deep within to activate the collagen structure. The treatment helps collagen to firm, tightens the target area, resulting in smoother skin. The end result is a tighter, lifted skin of the area treated, with the smoother texture of the skin and a body that's contoured and toned up. Another great advantage of getting a Thermage done is that you'll always look like a younger version of nobody but yourself. Thermage does not change your features or make you look like someone else. Something that's a bit common with surgical procedures.
But when should I get one?
Individuals between 30-65 years of age can undergo the treatment, however, younger people can also opt for Thermage to maximize their collagen production in a preventive way. Thermage is safe for all skin types and its radiofrequency does not cause any harm or damage to the outer layers of the skin. A lot of individuals start seeking this treatment right from when they notice early signs of ageing in the form of fine lines and wrinkles, sagging of the neck, drooping of eyelids and jowls, along with when their cheeks begin to look flatter and less highlighted on their face. Thermage definitely brings back the youthful appearance of your skin while contouring it.
Apart from using Thermage for face, there is also a high demand to use Thermage on one's body as well. This procedure is proven to tighten, lift, and firm skin on your arms, legs, buttocks, treat wrinkles above the knees, getting rid of cellulite and dimpled skin on your thighs. It is also helpful in getting rid of flabby skin around the love handles and the abdomen.
Anything to keep in mind before going for the treatment?
Right before the treatment, the patient's skin is cleaned off any impurities, makeup, or dirt after which the treatment area is outlined and mapped for easier navigation of the tip. The handpiece delivers radiofrequency in a series of pulses and is applied to the skin in a stamping motion. The radiofrequency that was once known to be painful, with evolved technology over the years, is now high on patient comfort and less on the duration of the treatment.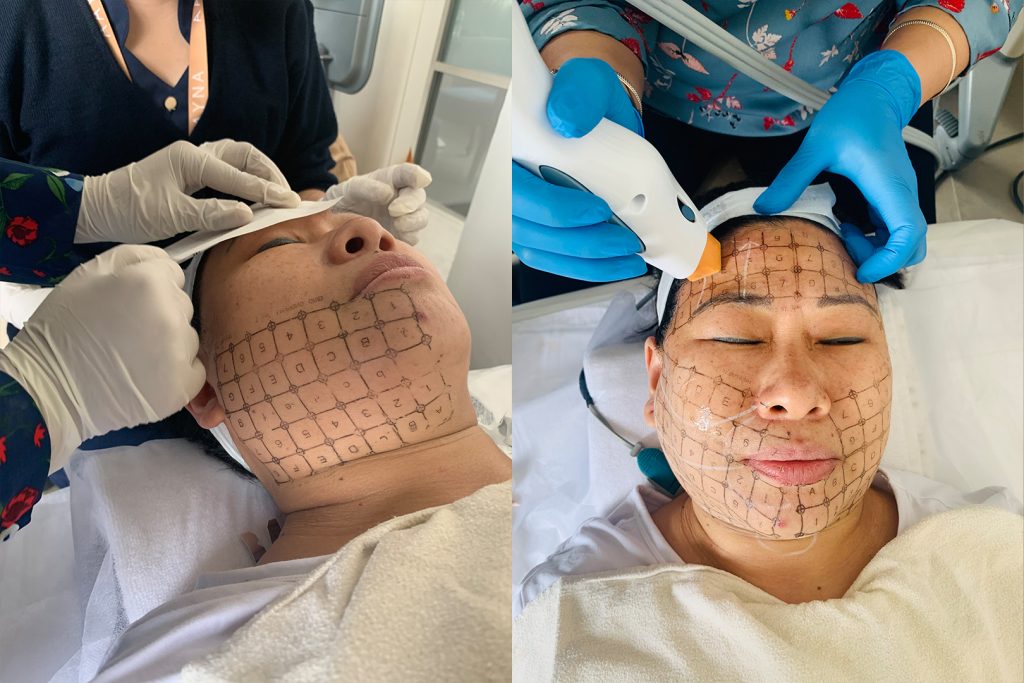 What is Thermage CPT?
Thermage CPT (Comfort Pulse Technology) is third generation Thermage. This enhances the client's comfort level compared to the previous Thermage. It has a vibrating tip that distracts from the heat sensation and also the heat distribution is more even and efficient. Thermage CPT coupled with the TOTAL TIP which doubles the heating effect while maintaining the same safety profile and increased comfort levels deliver excellent results.
What should I expect post Thermage treatment and how soon will I see the results?
Thermage comes with zero downtime. Post the procedure, it's pretty normal to experience a slightly swollen face with a pinkish appearance. The skin is visibly fresh, dewy and radiant though. People can resume their normal daily activities immediately after the treatment. Although individuals can see visible results immediately after the session, the actual results begin to show over the course of six months. This is because not only does Thermage tighten the existing collagen but it also stimulates your body to produce new collagen and elastin. And slowly as your skin begins to produce and remodel with new collagen, your skin starts getting tighter, firmer, and smoother. Eventually, you see smooth, wrinkle-free skin that's not only youthful but contoured and toned as well.
Can Thermage be combined with other treatments?
Thermage can be safely and effectively combined with all lasers, chemical peels, and other skin rejuvenation modalities to maximize improvements in all dimensions of the ageing spectrum. Thermage when combined with FRAXEL gives enhanced anti-ageing effects with drastic improvements in photoaged skin. Dermal fillers and Botox, post-Thermage, result in more pronounced contouring.
At AAYNA, our doctors and therapists are trained to deliver maximum results in a short procedure. To date, AAYNA has performed over 3000 Thermage procedures, which is currently the highest number in Asia. Thermage lets you achieve all your anti-ageing goals without undergoing the knife. AAYNA offers Thermage for eyes, stomach, neck, arms, knees and thighs as well.
We are able to create fully customized procedures to ensure all your specific aesthetic needs are met.