Waterless pedicure is the future! In a world where we need to be more aware of our water usage, this trend is exactly what we need. Waterless pedicures not only reduce water usage but also the risk of infection from using the same implements repeatedly. In this article, you will learn everything you need to know about waterless pedicures–how they work, which products you can use, and examples of different variations. Whether you are a professional looking for new ideas or an at-home enthusiast with a passion for beautiful feet, keep reading to discover everything you need to know about waterless pedicures!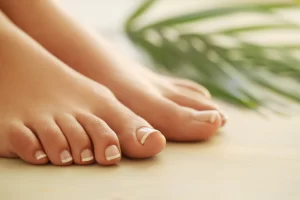 This blog post details the waterless medical pedicure treatment method which is also known as a dry pedicure or a no-water pedicure. This technique was developed by a London-based technology and is used by licensed therapists who have undergone specialist training in Waterless Medical Pedicures. The main differences between this type of treatment and a traditional wet-foot spa pedicure are that it takes half the time, uses fewer chemicals, and involves zero use of water. While a standard wet-foot spa pedicure takes around 45 minutes to complete, an individual session of the waterless medical pedicure can last lesser minutes.
The primary goal of both treatments is to cleanse the feet, remove old skin cells and expose newer healthier skin underneath. In other words, both aim to improve your feet! The primary difference lies in the level of invasiveness and the treatment results: The Waterless Medical Pedicure is far less invasive and the treatment results in softer, healthier feet medically treated for concerns like corn, calluses, broken heel, and ingrown toenail. This article will explore further what exactly you can expect from a Waterless Medical Pedicure treatment exclusively available in India at AAYNA clinic.
What is a Waterless Medical Pedicure?
A waterless medical pedicure is a treatment that combines elements of foot scrub, foot and leg massage, and exfoliation. It is performed without the use of water – hence the term 'waterless'. The waterless medical pedicure is aimed at people with sensitive skin. This includes those who suffer from eczema and plantar psoriasis, as well as those with diabetes, rashes, and cuts. The treatment is also suitable for diabetics who are at risk of infection due to peripheral neuropathy. The waterless medical pedicure uses a range of solutions including an advanced device, creams, and an Australian Emu oil to cleanse and exfoliate the feet. Unlike a wet-foot spa pedicure, these solutions are applied to the skin without being massaged in. The therapist will then use medical tools to gently scrub the callused skin on the soles of your feet.
How to have a waterless medical pedicure?
For the pedicure to be as effective as possible, your feet and legs should be completely dry before the treatment begins. This is to ensure that no excess water is absorbed into the skin. The treatment includes a detailed consultation with experienced dermatologists, a diagnosis is then made and then a medical chiropody style treatment is conducted to treat all the concerns. The objective and the major focus of cosmetic podiatry is the feet to go through a complete overhaul with the pedicure. It medically addresses all aspects of foot health. A waterless pedicure can be seen as a foot treatment and diagnostic tool for foot concerns that are not usually covered by a foot spa pedicure. Medical tools are used to reduce hard skin, corn, callused skin, and ingrown toenails as well. The long-lasting results involve beautiful, healthier feet nourished further with Australian Emu oil. Several issues are resolved with the anti-bacterial, anti-inflammatory, and anti-fungal treatment which also addresses ageing skin too. The feet are deeply hydrated and moisturized so they would remain healthy for a long time. The London-trained aestheticians at AAYNA clinic perform the pedicure in a safe, relaxed, and hygienic setting.
The main advantage of the waterless medical pedicure is that it is far less invasive than a standard wet foot spa pedicure. This makes it a better choice for people with sensitive skin or open wounds. The waterless medical pedicure is also gentler on the skin, which makes it suitable for people who suffer from eczema and plantar psoriasis. It reduces the risk of any infection for diabetic people or people suffering from a skin condition. Furthermore, the waterless medical pedicure takes around half the time of a standard pedicure. This makes it more suitable for people who are in a rush and don't have the time for a full pedicure treatment.
AAYNA's Exclusive Waterless Medical Pedicure
Waterless pedicures have been around for some time around the world but have recently received a surge in attention recently. This is due to the increased number of people who are eco-conscious and aware of their carbon footprints, as well as those with medical conditions that make water immersion difficult. These include pregnant women, diabetes, and those with lowered immune systems. With this in mind, AAYNA has exclusively brought the treatment to India at Delhi and Ludhiana for those looking for a more mindful pedicure experience. All the aestheticians who perform this treatment at AAYNA are trained by podiatrists in London and are registered to medically treat foot concerns. Before the pedicure, your feet will be diagnosed for all the concerns to be treated and a comprehensive consultation will be conducted with an experienced dermatologist at AAYNA. AAYNA is a state-of-the-art skin and hair clinic where you can get multiple exclusive and other advanced treatments to treat all types of concerns related. It is founded over a decade ago by Dr Simal Soin, a globally renowned cosmetic dermatologist practicing for more than 25 years. At AAYNA, there are more than 10+ doctors and trained aestheticians who perform, non-surgical, clinically researched, and technologically advanced treatments. Apart from concerns, aesthetic treatments like fillers, semi-permanent makeup, and anti-ageing procedures like Ultherapy, Thermage, Botox, and more are also performed. We also have a weight loss vertical called AKARA by AAYNA where non-invasive body sculpting is done along with other advanced treatments.
Call AAYNA at the following numbers:
AAYNA Mehrauli: +91 704 229 7304
AAYNA Khan Market: +91 987 039 6667
AAYNA Ludhiana: +91 857 500 6060