Since time immemorial, women have wanted to look beautiful, be it like Cleopatra the Egyptian queen or our own Indian queens, like Rani Jodha and Rani Padmavati. But these women were never considered anything less than their male counterparts. If anything, their beauty, only enhanced their looks and persona. So, when did making an effort to look beautiful or wanting to enhance one's looks become derogatory? Here is where Dr.Simal Soin comes into play with AAYNA clinic, "A concept born out of a dream to create something unique and timeless. It is a temple of beauty where we create and enhance beauty – both outer and inner."
I visited the clinic with hopes of correcting some skin issues I have been dealing with due to some hormonal issues. After my consulting with Dr. Soin, I was advised to go for the HydraFacial. Those of you who read my blog, know I have super sensitive skin and shiver even at the mention of someone touching my face with products. AAYNA's HydraFacial treatment is a non-invasive, painless serum-based treatment performed under medical guidance, which gives a customized solution for all skin types. Hydration is the core of beautiful, luminous skin. The Hydra Facial is a hydrating treatment that gives an instant glow and assists in reducing the appearance of fine lines, wrinkles, blocked up and enlarged pores, sensitive or acne-prone skin, brown spots, and hyperpigmentation. Dr. Simal Soin was the first one to bring HydraFacial to India with advanced Gold-Standard technology that tackles concerns like dry skin, pigmentation, oily skin, fine lines, wrinkles, with a prominent clearer, hydrated, glowing, and younger-looking skin.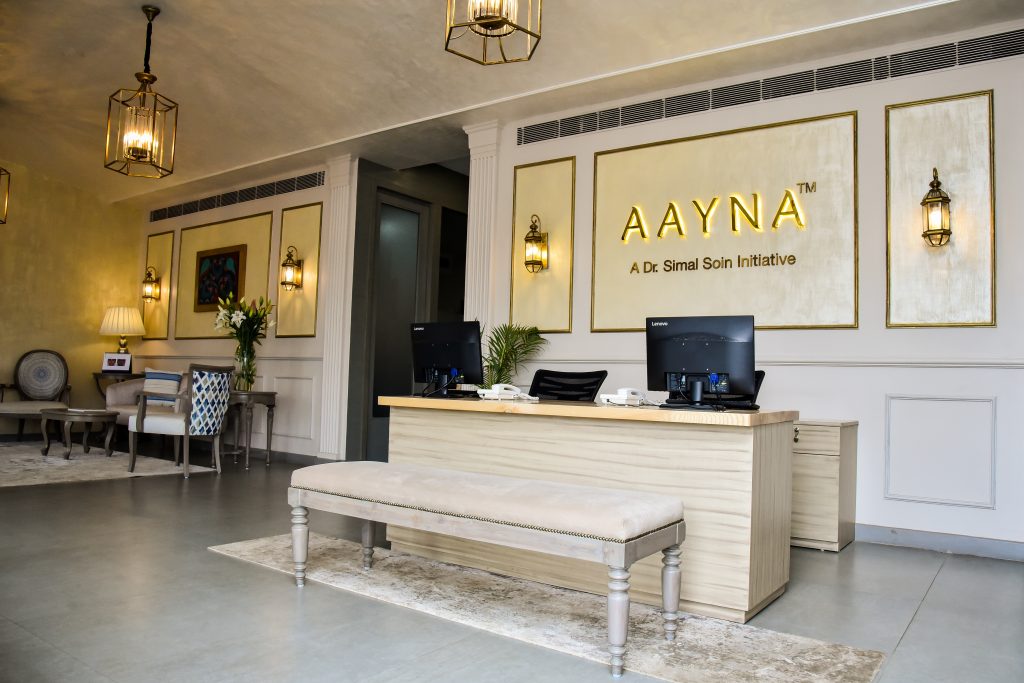 The process of HydraFacial treatment includes five essential steps that are as follows:
Cleansing and Exfoliation – Dead cells are gently removed to uncover smoother healthy skin
Peeling Serums – Gentle chemical peeling cleanses pores and improves pigmentation
Extractions – Painless, quick extraction of blackheads & whiteheads with a special vacuum tip.
Hydration – Vortex fusion technology for deep penetration of antioxidants and hyaluronic acid, which help hydrate skin and reduce signs of aging.
Protection – The HydraFacial range of products used during the treatment includes serums and a special sunscreen that looks invisible on the skin and helps sustain and secure treatment results.
After listening to my fears and issues, I was further given a consultation with Shweta Bishnoi, the in-house nutritionist and weight loss specialist, to plan a diet chart for me to help me lose the extra kilos and generally keep me healthier. I felt immensely relaxed after the consultation, as she convinced me a lot of my weight gain, mood swings, and skin issues are to do with my Hormonal issues and should get sorted after the treatment and plan she put me on.
About AAYNA
Spread over 4,400 sq feet and having 11 treatment rooms, walking into Mehrauli's AAYNA clinic feels like walking into a boutique hotel, with vintage decor and old-world charm, decorated by Dr.Simal Soin herself. Dr. Simal Soin is one of India's leading cosmetic dermatologists. Apart from conventional therapeutics, she gained vast experience in cosmetic dermatology including the use of all modern laser equipment for the treatment of a variety of skin concerns, botox, and various fillers. At AAYNA, she offers a team of world-class dermatologists, aesthetic doctors, and skin therapists, along with in-house nutrition and weight loss specialist. They also offer a vast variety of treatments like waterless pedicures, laser hair reduction, semi-permanent make-up, and much more.
The Verdict: I fell in love with my skin after years. So much so that I did something I have never done in all my years as a lifestyle journalist, I actually made an appointment for my next treatment and plan to continue this for the next 3 to 4 months till my marks reduce and I move to more intense treatment. As for my nutrition program? I've had follow-up sessions with Ms. Bishnoi and I lost over 5kgs in a month (despite cheating sometimes)!